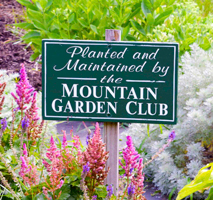 September 17, 2018
"Fabulous Fall Flowers"
Lori Kinsey - TMCC Director
Rick Klausner - TMCC Certified Naturalist
Tin Mountain Conservation Ctr- Albany, NH -Time: 9:30am
This is our first meeting of our new fiscal year and a time to start planning for all the interesting programs and projects to come, followed by this great presentation by Tin Mountain.
Fall wildflowers appear as colorful asters and goldenrods in our fields and gardens. With over 200 native goldenrod and asters found in North America, it can be easy to confuse species.
Tin Mountain Executive Director, Lori Jean Kinsey, and TMCC Certified Naturalist Rick Klausner, will enlighten us to the important role these plants play in the fall landscape.
They are an important food source for pollinators such as bees, wasps, and butterflies and are home to many beneficial insects such as lacewings and praying mantis, as well as spiders.
The seeds of both of these flowers also provide food throughout the year for wildlife. Both of these plants deserve a spot in your fall landscape.