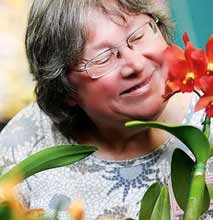 January 8, 2018
* alternate Date in case of snow = January 22nd
How to Take Quality Photos in Your Own Garden
Kathy & Ed Bergeron
Noted Photographers & Nature Enthusiasts
Salyards Center for the Arts -Time: 9:30am
Kathy and Ed Bergeron, MGC Members, have been serious amateur nature photographers for many years. They are avid outdoor enthusiasts and have taught a number of photography workshops at Tin Mountain Conservation Center. Kathexhibits some of her works with the League of NH Craftsmen.
They have photographed scenery and wildlife all around the world, including Canada, Arizona, the Alps, Yellowstone National Park, Kenya, as well as at Monet's Garden in Giverny, France.
Kathy and Ed return to the MGC to share their expertise and to inspire us to learn how to capture our gardens and those we visit through the lens of our own cameras.