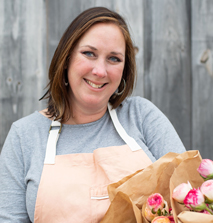 March 19, 2018
* alternate Date in case of snow = March 26th
Growing a Cutting Garden
Nancy Stedman
Master Gardener, Owner- Little River Flower Farm
Salyards Center for the Arts -Time: 9:30am
Nancy describes herself as a gardener "out of control." She will lead us step-by-step in the process of setting up our own cutting garden.
Wouldn't it be nice to go out into your own yard this summer and collect lovely flowers for a bouquet to brighten up your home or take to a friend?
Nancy comes with great ideas on what flowers work best for arrangements, and how, where and when to plant them. She will share what she has learned, having run the Little River Flower Farm, a certified organic farm in Buxton, Maine, for the past 20 years.
Her philosophy is "be kind to nature and it will reward you tenfold".

To find out more about Little River Flower Farm - click for website