Welcome to the Mountain Garden Club Website - We LOVE Gardening!!!
Here you will find many areas of interest for you to get involved. Whether you join in and help in a civic beautification program or participate in one of our many community events or assist in raising money for our scholarship fund, you can make a difference, too.
New Hampshire Federation of Garden Clubs – District I & National Garden Clubs, Inc. & New England Garden Clubs, Inc.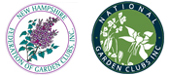 MISSION - The Mountain Garden Club is dedicated to promoting horticultural education, civic beautification, and conservation through volunteerism and friendship in the Mount Washington Valley.
VISION - Our vision is a community where the Mountain Garden Club is recognized as the organization in the Mount Washington Valley for "all things green":
1. Horticultural Education - 2. Civic Beautification - 3. Environmental Stewardship